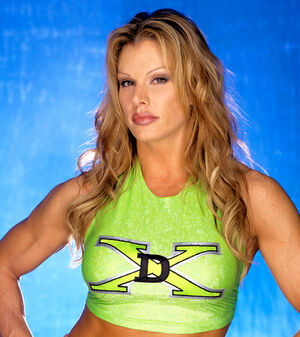 Tori
is a former WWE Diva who was part of the then-named World Wrestling Federation from 1998-2001. She is best known for being one of the many members of
D-Generation X
.
Tori's villainous transformation began at the end of 1999 and entering 2000, after she was forced to spend the Christmas weekend with D-Generation X member X-Pac. She stated to her (kayfabe) love interest, Kane, that X-Pac was a perfect gentleman, and for weeks, she would unleash Kane to attack babyface wrestlers; claiming that they made her nervous. It was on January 27, 2000 that Tori officially became a villainess by making out with X-Pac in front of Kane after revealing that they basically spent that entire weekend making love. Along with her heel turn, Tori became a member of DX and she assisted X-Pac in his continuous feud with Kane. She also helped Stephanie McMahon defeat Jacqueline to capture the Women's Championship.
In 2001, the evil Tori resurfaced as The Black Ninja, a masked villainess in a black bodysuit who would continuously attack Molly Holly and help Raven capture the Hardcore Championship. In her last appearance for WWF/E, Tori was unmasked by Molly Holly.
As a villainess, Tori was extremely devious and manipulative, as well as surreptitious.
Gallery