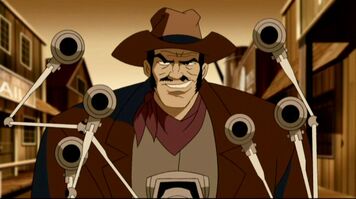 Tobias Manning was a minor villain in the Justice League, but an enemy mainly towards Batman, Wonder Woman, and John Stewart AKA Green Lantern. He was a small time outlaw living in the town of Elkhorn in the late 1870's.
History
Elkhorn's sheriff, Ohiyesa Smith, repeatedly ran the outlaw out of town. When David Clinton arrived to Elkhorn in June, 1879, Manning bushwhacked Chronos and stole his time machine. He then used it to travel to the future to get weapons and technology that would allow him to take over Elkhorn and get revenge on the sheriff.
Badly beaten and humiliated, Ohiyesa was driven from Elkhorn and went looking for help. He found it in the form of Bat Lash, El Diablo, and Jonah Hex. Later, Justice League members Batman, Green Lantern, and Wonder Woman would arrive looking for Chronos. After freeing Chronos and Bat Lash from Manning's prison, they joined with Smith to retake Elkhorn. All Mannings weapons and future tech were either destroyed or disabled in the battle, leaving him with no advantage over Ohiyesa. The two fought one last time, but Tobias was no match for the sheriff, and yet again lost to Ohiyesa Smith.
It's unknown what happened to Tobias Manning after time was set back to normal.
Background Information
In the comics, Tobias Manning is a Superman villain going by the name Terra-Man. In the Pre-Crisis, Terra-Man was an interstellar outlaw who used modern technology stylized as western equipment and rode a winged horse; this is referenced by the robot horse Nova. Post-Crisis, he was a businessman turned environmental activist, who mainly preyed on those who destroyed nature (similar to Poison Ivy and Floronic Man). He was publicly executed by Black Adam in the pages of 52 as part of the latter's campaign to rid the world of many of its petty villains.