| | | |
| --- | --- | --- |
| " | "Is he friend, or is he foe?", the pony wonders. I can assure you... I am no friend. I am Lord Tirek, and I will take what should have been mine long ago. | " |
| | ~ Tirek while stealing a unicorn's magic. | |
| | | |
| --- | --- | --- |
| " | My Brother who betrayed me. It is as worthless as he is. | " |
| | ~ Tirek expressing the hatred that he carries towards his brother. | |
Lord Tirek (simply known as Tirek) is one of the main antagonists of My Little Pony: Friendship Is Magic. He is a demonic centaur with the power to drain the magic and abilities out of other creatures, particularly ponies. He is Friendship is Magic's incarnation of Tirek; the first villain of the original series.
He first appears as the main antagonist of Season 4 finale "Twilight's Kingdom" and is confirmed to reappear in the finale of Season 8 "School Raze".
He is voiced by Mark Acheson, who also portrayed Unicron in Transformers: Armada and Transformers: Energon, Moses Tripoli in Fargo and Sabretooth in Hulk Vs.
History
Backstory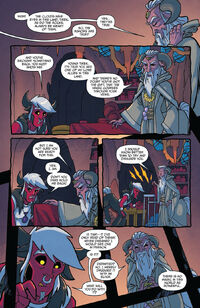 Along with his brother Scorpan, Tirek used to be the princes of their own kingdom. One day, Tirek went to visit an old centaur wizard called Sendak the Elder. Though at first Scorpan said they had to return to the castle because their parents could be worried for them, Tirek ignored Scorpan and once on Sendak's house, he told to Tirek everything about pony magic and how he captured one when he traveled to Equestria. Tirek and Scorpan returned to the castle where their parents, King Vorak and Queen Haydon were arguing until they enter on. That night, Tirek and Scorpan talked about their parents relations with them and when everyone went to sleep. Tirek went out the castle to find out more about pony magic. Once in Sendak (who was taking a nap)'s house, Tirek tries to make the same ability that Sendak used to steal the pony's magic until Sendak woke up just to see how Tirek's spell of absorbing magic just causes a great explosion that traps Sendak under a pile of rubble. Sendak asks Tirek for help, but he abandons him and sneaks back to the castle.
The next day, it is revealed that Sendak was rescued by Vorak's guards, but was sentenced to work in the mines for the rest of his life. Vorak asks to Tirek where he was the night when the explosion happened and Tirek explains that he never left the castle. However, his father doesn't believe him and confines Tirek along with Scorpan to their chamber. Tirek is last seen in the balcony where he swears that one day he will overthrow his father and finish what Sendak couldn't: Rule over Equestria.
A thousand years prior to the series, Tirek and his brother Scorpan tried to take over Equestria; but when Scorpan came to appreciate Equestria and became friends with Starswirl the Bearded, he tried to turn Tirek away from his quest. Tirek refused, and Scorpan warned Celestia and Luna of his brother's ambitions, and, because of this, they were able to imprison Tirek in Tartarus for his crimes while Scorpan returned to his homeland.
Season 4
In "Twilight's Kingdom", it is revealed that when Cerberus left his post at the gates of Tartarus (in "It's About Time"), Tirek was able to escape. After spending his time free recovering his strength, he had eventually regained enough power to absorb a unicorn's magic. Celestia received a vision of this and sent
Discord
after Tirek, as he could sense magical imbalances and therefore make it easy for him to find Tirek. Discord, using the guise of a unicorn, discovered Tirek in alleyway and confronts him. Tirek initially commends Discord for his "escape" from his imprisonment, only for Discord to bind him with shackles, revealing that he had switched alignments and is reimprisoning Tirek for his friends. Taking advantage of this new revelation, Tirek convinced Discord that his friendship was a new form of prison and that, if they worked together, he could get the one this friendship could never give him; freedom. With Discord now at his side, Tirek began devouring the energy and magic from unicorns, pegasi and earth ponies alike from all across Equestria, regaining almost all of his strength.
Knowing that he would seek alicorn magic next, Princesses Celestia, Luna and Cadence, with no options left, called upon Twilight and entrusted all of their magic to her, as Tirek was not aware of the existence of a fourth Princess. As expected, Tirek and Discord assaulted Canterlot in search of the Princesses' magic, only to find the three Princesses without it. Still assured of his victory, Tirek ironically banished the three Princesses to Tartarus and approached Discord, who was comically altering Celestia's stained glass windows. Seeing the window depicting Twilight, Tirek demanded to know why Discord didn't tell him about the fourth Princess. Discord stated that he wasn't sure if Tirek could be fully trusted, but now knowing that he is, tells him about Twilight and her friends. As a sign of gratitude, Tirek gives Discord a medallion that he received from "somebody close to him". Tirek and Discord then headed to Ponyville and captured Twilight's best friends, Tirek draining their power before doing the same to Discord, telling him that he has outlived his usefulness, revealing that his medallion actually came from Scorpan, and that Discord is as worthless to him as his brother was.
Growing to tremendous size from the magic he absorbed, Tirek sought out Twilight, obliterating her home of the Golden Oak Library in his search, enraging her and driving them to fight in an epic battle. The two were evenly matched, though Twilight seemed to have a slight advantage, and so Tirek revealed the other Mane 5, Spike, and Discord, imprisoned inside orbs. Tirek told Twilight to give him all the alicorn magic in Equestria in exchange for her friend's release, and she agreed, and Tirek released all except Discord, who Twilight then wanted to be released as well. Although not understanding why Twilight would want Discord after he betrayed her, Tirek complies and drained her of all the alicorn magic, increasing his size and strength to titanic proportions. To thank her for her kindness, Discord gave Twilight Scorpan's medallion, this time out of legitimate gratitude, making it the final key to the Tree of Harmony box.
Unlocking the box, the Mane 6 receive Rainbow Power, and confront Tirek with their new abilities. Tirek fires at them with a massive magical blast, only to be confused when his attack has no effect on them. A distressed Tirek asks how it is possible for the Ponies to be undamaged without magic, and Twilight responds by telling him that she possesses the mos powerful magic of all; friendship. The Mane 6 then attack Tirek, draining him of his stolen magic and reimprisoning him in Tartarus, undoing all of his actions.
Season 5
In "The Cutie Map - Part 1", Tirek is mentioned by Rainbow Dash when she reminds Twilight that they along with the rest of the Mane Six, have opened all six keys of friendship, defeated Tirek and received a castle of their own.
In "Crusaders Of the Lost Mark", Tirek was mentioned again by Pipsqueak, who stated that his battle with Twilight was the cause of the poor conditioning of the schoolyard.
In "The Cutie Remark - Part 2", in the fourth alternate timeline created by Starlight Glimmer, without the Mane 6 to stop him, Tirek succeeds in draining all the magic in Equestria and is briefly seen causing destruction.
Season 7
In "Shadow Play", Pinkie Pie mentions Tirek while recounting the threats Equestria has faced over the last thousand years to Starswirl the Bearded.
Season 8
In "The Mean Six", while not mentioned by name, Pinkie Pie briefly recounts the battle between the Mane 6 and Tirek while talking to Twilight (who, in reality, was a clone created by Queen Chrysalis).
Tirek is set to reappear in the last two episodes of Season 8.
Appearance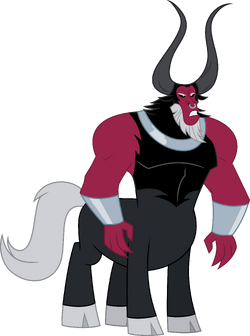 Similarly to his original incarnation, Tirek is a demonic-looking being with elements of a centaur. His lower body is black, with a white horse tail and cloven hooves. His upper body appears to be covered in black fur, except his arms and face, which are crimson. He has a pair of horns and a white beard, his eyes are jet black with yellow pupils. He dons steel bracelets which seem to be all that remains of his shackles, a steel collar, and a ring in his nose, he also wears a gold amulet that is a keepsake from Scorpan. Unlike his bestal yet human- looking face from his original incarnation, his face has a more primate-like or bull-like shape. In the beginning Tirek appears far smaller than he was in the original series, he is also scrawny and old-looking. However, the more power he absorbs, the bigger and nastier he gets. Notably, he becomes much more muscular, grows more hair, and his horns grow much longer. After he absorbs the power of the five main characters (sans Twilight), his shackle bracelets shatter.
Personality
Befitting his status as a revamp of one of original show's darkest characters, Tirek is extremely power-hungry, oppressive, brutal and selfish. He wants to have complete and utter dominion over all of Equestria, and he will stop at nothing to accomplish this goal. However, he does not kill his enemies, preferring to leave them alive, but powerless, the better to oppress them. Tirek is also very quick to anger, and his wrath is absolutely terrifying to behold.
Despite this, Tirek isn't purely a brute as he was patient enough to wait for a long time after escaping Tartarus, recovering just enough power to become able to launch an assault on ponies. 
He is also an expert manipulator who cannot be trusted. He was even able to persuade Discord, himself known as an expert master of puppets, into joining him, only to betray him and consume his power after gaining enough magic to do so. Despite this, he will sometimes keep his word, but only when he feels he's not really losing anything out of the deal, such as when he released Twilight's depowered friends. Tirek seems to be quite lucid, because he did not understand how Twilight could still consider Discord as his friend after the way he betrayed him.
Powers and Abilities
Tirek has manifested the following abilities so far:
Episodes and Appearances
My Little Pony: Friendship is Magic
Season 4
Season 5
Season 7
Season 8
Comics
Friendship is Magic
Friends Forever
My Little Pony: FIENDship is Magic
Trivia