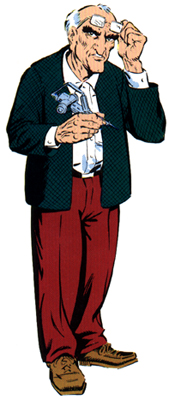 Phineas Mason, also known as the Tinkerer is an evil genius and inventor who most frequently opposes Spider-Man, but also makes gadgets, weapons, and upgrades for many various Marvel supervillains. In his first appearance, Mason, (as the Terrible Tinkerer) composed a conspiracy with Quentin Beck (later Mysterio) in which they pretended to be aliens infiltrating the worlds technology systems. After he was defeated, however, Tinkerer became a weapons dealer for many villains, using his scientific genius to build amazing creations.
The Tinkerer is one of the main villains in the Marvel Ultimate Alliance 2 video game, having created the nanites that would eventually become The Fold.
A much younger version of the Tinkerer appeared in Spider-Man Homecoming, as the person who creates Vulture's suit, played by Michael Chernus.
List of supervillains that the Tinkerer helped create/upgrade
Edit
Scorpion
Gold Bug
Grizzly
Hypno Hustler
Hobgoblin (Phil Urich)
Cyber
Rocket Racer
Big Wheel