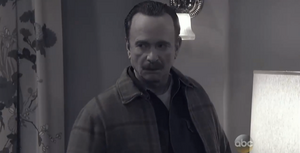 Tim Spencer is the main antagonist of the 52nd Anniversary special of General Hospital, which aired on April 1, 2015. He is shown in flashback throughout the episode in the year 1963. He was the husband of Lena Eckert and father of Pat, Luke and Bobbie. He was a bitter, vicious drunk who thought very lowly of his own family and constantly beat them all both mentally and physically. He claimed to love Lena, though he saw her more as a possession than as his loving wife, who stayed with him despite his abuse of her. In the decades that followed, his treatment of his own family continued to haunt Luke ever since then and he was always afraid to become just like Tim. It resulted in Luke's personality splitting which in turn lead to the creation of Fluke, a subconscious representation of the evil that Luke saw Tim as.
He is played by Anthony Geary who also played Luke/Fluke and Bill.
Ad blocker interference detected!
Wikia is a free-to-use site that makes money from advertising. We have a modified experience for viewers using ad blockers

Wikia is not accessible if you've made further modifications. Remove the custom ad blocker rule(s) and the page will load as expected.