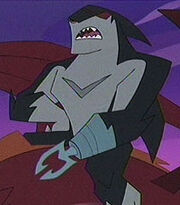 ✔

Tiburon is a minor villain from American Dragon: Jake Long.
He is a shark person and has an eye that is red and a metal clawed hand. His goal is to rule the sea by using Neptune's Trident.
He battles Jake and Greggy by riding on a giant sea cryptid called the Sea Serpent.
His Sea Serpent gets weakend by hot steam and he falls into the ocean with him.