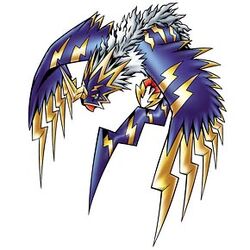 Thunderbirmon is a minor villain in Digimon Xros Wars.
Appearance
Thunderbirmon is an Armor Level Digimon that resembles a masked blue bird. It has yellow lightning markings and lightning-shaped feathers.
Digimon Xros Wars
An army of of Thunderbirmon were members of the Bagra Army. They served as the air force for one the Death Generals; Gravimon. They were absorbed by Gravimon so he can become; Gravimion Darkness Mode.
Profile
He is able to summon thunderous clouds with an echoing cry like thunder, and control thunder with the horn on its brow. Although he is roughly temperamental and destructive, he is extremely kind and caring for his comrades.
Attacks
Trivia