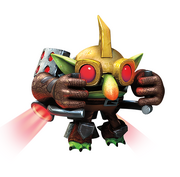 Threatpack
, also known as 
Professor Nilbog
 is one of the trappable villains in
Skylanders: Trap Team
. A Water element trap is required to trap him. Threatpack appears in the Operation: Troll Rocket Steal level, where he tried to launch the secret rocket in the Skyhighlands. But it was not the secret rocket when Skylanders came and tried to prevent that could it to reach the Skyhighlands. And in the Arena Battle the Skylanders encountered the Threatpack. He is sort of troll skiff is jetpack. However the Skylanders defeat him, lock him in a Water element trap and managed get the rocket to reach the Skyhighlands.
Gallery
Ad blocker interference detected!
Wikia is a free-to-use site that makes money from advertising. We have a modified experience for viewers using ad blockers

Wikia is not accessible if you've made further modifications. Remove the custom ad blocker rule(s) and the page will load as expected.