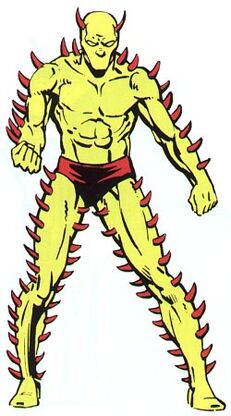 Thornn was on a team of magical supervillains called Salem's Seven. They were foes of the Scarlet Witch and the Fantastic Four. All seven were the children of Nicholas Scratch and the grandchildren of Agatha Harkness. They were humans with magic powers who could transform into fantastic creatures with super-powers.
Powers
Transforms into a yellow demonic humanoid with large red thorns jutting from the arms and legs. He has the ability to throw explosive or stunning thorns.
Ad blocker interference detected!
Wikia is a free-to-use site that makes money from advertising. We have a modified experience for viewers using ad blockers

Wikia is not accessible if you've made further modifications. Remove the custom ad blocker rule(s) and the page will load as expected.