Theokoles
is a minor villain from
Spartacus: Blood and Sand
and is an albino Celt towering above all of his opponents. He was undefeated and had previously defeated as many as 100 men in a single spectacle. He has won many fortunes and his freedom several times, but continues to fight high-profile matches.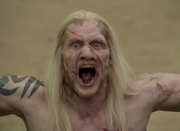 Immensely strong and impervious to pain, Theokoles was unbeaten prior to the Shadow Games episode. Oenomaus, who is the only man to survive a battle with Theokoles (and still bears the scars of the match), personally trains Spartacus and Crixus for the spectacle. Theokoles meets his end during a match between himself and Crixus and Spartacus, the former's aid allowing Spartacus to become the victor.
Ad blocker interference detected!
Wikia is a free-to-use site that makes money from advertising. We have a modified experience for viewers using ad blockers

Wikia is not accessible if you've made further modifications. Remove the custom ad blocker rule(s) and the page will load as expected.