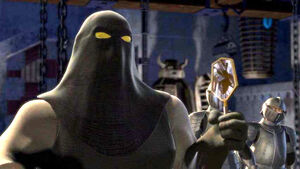 Thelonious is the dimwitted minion of Lord Farquaad and the secondary antagonist and later an anti-hero from the 2001 DreamWorks film, Shrek, and reappears as the secondary antagonist and later an anti-hero in the 2003 3-D short Shrek 4-D. He appears to be Lord Farquaad's royal executioner within the kingdom of Duloc.
History
At the beginning he was torturing Gingy (also known as the Gingerbread Man). When Lord Farquaad tried to decide which princess to find and married, Thelonious told him to pick #3 (even though his fingers say 2).
Thelonious also made an appearance in Shrek 4-D. In this movie, he helped the spirit of Lord Farquaad kidnap Princess Fiona. At the waterfall scene, Fiona fights Thelonious off her raft, but he survives, and Dragon eats Farquaad once and for all. It is unknown what became of Thelonious afterwards.
Appearances in other media
He also appears in the Nintendo DS version of Shrek Super Slam as a playable character.