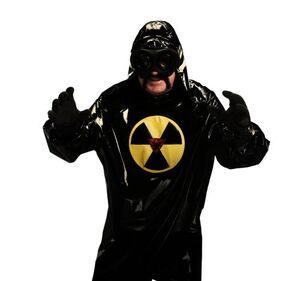 The Tumor a.k.a Big Tony is a mob enforcer turned supervillain that joins the Toxic-Mega Cunts and becomes an enemy to the superhero vigilante group known as Justice Forever. 
He is portrayed by Andy Nyman
Kick-Ass 2
Big Tony is a mob enforcer with a violent temper, being short and an urge of kill people for the fun of it. Chris agrees with his personal bodyguard to recruit Tony and goes under the alias "The Tumor" for his being short and desire to kill his victims.
Trivia
Big Tony's villain name is based on a disease, referring for starting small and killing its victims as painfully as possible. 
It's possible he is parody of Marvel's villain Radioactive Man. 
Ad blocker interference detected!
Wikia is a free-to-use site that makes money from advertising. We have a modified experience for viewers using ad blockers

Wikia is not accessible if you've made further modifications. Remove the custom ad blocker rule(s) and the page will load as expected.