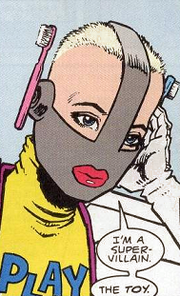 The Toy is the only member of the Brotherhood of Dada left alive, unless you count Number None, although Number None can, by definition, be anyone or anything and is more of a concept than an actual person. She was late (as always) to the rally where her teammates were killed. Her origin and powers are unknown, but she has a distinctive look: the lower half of her face is locked behind something similar to Hannibal Lecter's mask, only combined with a Mister Potato Head. A set of plastic lips have been affixed to the mask, and a set of toothbrushes have been grafted on as ears. She wears a shirt that says Play with Me under a vest with pronounced shoulderpads.
The Toy reappears in Doom Patrol #10, once again late to a meeting with Thayer Jost. She is then killed in the following issue, which brings about the return of Mr. Nobody.
Ad blocker interference detected!
Wikia is a free-to-use site that makes money from advertising. We have a modified experience for viewers using ad blockers

Wikia is not accessible if you've made further modifications. Remove the custom ad blocker rule(s) and the page will load as expected.