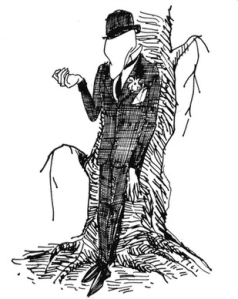 The Terrible Trivium is one of the Demons of Ignorance and a villain in The Phantom Tollbooth by Norton Juster. He represents wasting time and avoiding responsibility by performing useless tasks.
Appearance
He's humanoid, nicely dressed with a bowler hat to complete and has no face.
History
He first appeared giving Milo, Tock and the Humbug tasks. For Milo, to move a huge pile of sand from one spot to another using a pair of tweezers, for the Humbug, to dig a hole from a cliff by using a needle and for Tock, to empty a well by using a eye dropper.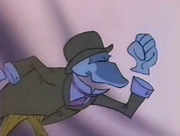 Quotes
"Quite correct! The Terrible Trivium. Demon of petty tasks and worthless jobs. Monster of habbits. Ogre of wasted efforts. And friend to lazy and foolish people everywhere."
"What's more important than doing unimportant things? If you stop to do enough of them, you'll never get to where you're going."
"If you only do the easy and useless jobs, you'll never have to worry about the important ones which are so difficult. You simply won't have the time, for there is always something to do to keep you from what you should really be doing."
"THERE ARE SO MANY THINGS TO TAKE AWAY, AND THINGS TO BRING BACK. SO MANY HOLES TO DIG. SO MANY DOODLES TO DOODLE. SO MANY USELESS THINGS LEFT TO DO."