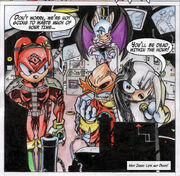 The Syndicate was a villain group from Sonic the Comic: Online.  Consisting of Dr. Robotnik , Dr. Zachary, Vichama, and Rouge the Bat, they awakened Shadow the Hedgehog and destroyed the Special Zone. 
History
The Syndicate was first formed when Dr. Zachary sought to awaken Shadow the Hedgehog to destroy the world. After Shadow's awakening, Zachary made him annihlate the Special Zone. The group diverged, and each was fought and defeated by the Freedom Fighters, but Robotnik was taken over by Drakons, and began attacking Mobius once more. 
Counterparts
They are obviously based off the original SA2-era Team Dark, but some fans also see parallels to Digimon's Dark Masters.