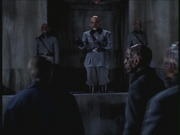 The Scourge
were the chief antagonists of the
Angel
episode "Hero" and are notable for being one of the few one-shot villains in a show to succeed in killing off a main character - in this case Doyle, who sacrificed his own life to stop their xenophobic quest to exterminate all "non-pure" species.
Story
The Scourge was an army of pure-breed demons bent on the extermination of every non-pure demon race on earth, as well as that of humanity itself. To this end, they sought to eliminate a group of Lister demons currently hiding in Los Angeles, intending to test their latest weapon, the Beacon- a device that emitted a light that destroyed anything with human blood that it came in contact with- on the Listers. Although Angel Investigations attempted to sabotage their attempts by having Angel infiltrate the group- claiming to loathe his 'half-breed' status- while they helped the Listers escape on a carge ship, the betrayal of the ship's first mate allowed the Scourge to get the Beacon on board the ship, the Beacon only being deactivated thanks to Doyle's sacrifice.
Trivia
Ad blocker interference detected!
Wikia is a free-to-use site that makes money from advertising. We have a modified experience for viewers using ad blockers

Wikia is not accessible if you've made further modifications. Remove the custom ad blocker rule(s) and the page will load as expected.