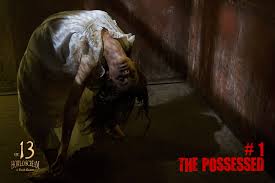 The Possessed Girl is one of the thirteen monsters of the main event Howl o Scream 2013.
Story
She's a girl who is possessed by the demon. She's on the park with twelve others monsters for scare the bystanders of the park. She maybe go after them by walking on her hands and follow all of the visitors. She look like a normal girl at the beginning whe they see her, But she turn upside down and then follow the visitors of the park again. Like every possessed people she go to scream before changing her face and eyes. She also have her own haunted house who is in the park she waiting there for more scare all people for take delight of their fear when they enter in her house. But is unknow what kind of demon was inside her because none one of the exociser found how to desruct that demon inside her. T's why the girl still possessed of the demon and still scare people at the park. She is prisoner by this demon without knowing how to chased the thing out of her body.
Ad blocker interference detected!
Wikia is a free-to-use site that makes money from advertising. We have a modified experience for viewers using ad blockers

Wikia is not accessible if you've made further modifications. Remove the custom ad blocker rule(s) and the page will load as expected.