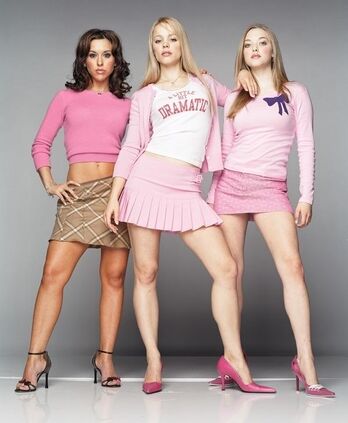 The Plastics were a group of popular girls that are lead by the school Queen Bee Regina George in the 2004 comedy movie, Mean Girls.
Plot
In the movie, the Plastics were a group of snotty girls who were on top of the social pyramid of their high school. As they ruled the social pyramid in an oligarchy manner and made fun of the people below them, they themselves deal with their own problems which created turbulent friendships between them.
When Cady Heron came from Africa as a new student, they quickly befriended her and made her a part of the group. After Cady gave Regina Kalteen Bars, which she claimed were weight-loss bars (in reality, the bars were used to make starving children in Africa to gain weight), Regina delightfully consumed but she eventually became fat and she was kicked out of the group, and Gretchen and Karen had Cady as their new leader.
At the end, the group broke up and the girls all became really good friends and moved on with their own lives.
Gretchen Weiners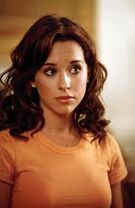 Gretchen is the daughter of the inventor of Toster Strudels and was born into a wealthy family.
Though she is a very beautiful girl, she feels empty underneath and that Regina controls her like a marionette.
Gretchen is actually a very nice girl, but whenever she is around Regina, she can act mean, but only to impress and be accepted by Regina as a friend. It is revealed that Gretchen was secretly very upset at Regina for not allowing her to wear any white-gold hoop earrings that was given to her by her parents on Hanukkah.
Gretchen was portrayed by Lacey Chabert.
Karen Smith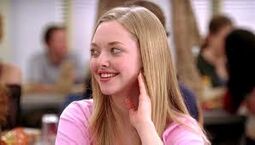 Karen is one of the best looking girls at school and was best friends with Regina and Gretchen.
She is very naive and kind of dimwitted, but is actually aware of it. She is also a very sweet and friendly girl Despite being described as "One of the dumbest girls you'll ever meet."
She later admitted to Cady that she is failing at nearly everything. However, she does have special talents like putting her whole fist in her mouth and predicting weather with her breasts, with the latter talent leading her to a job as a weatherwoman.
Karen was portrayed by Amanda Seyfried.
Gallery