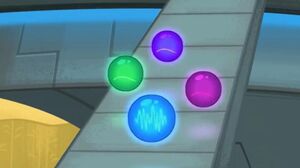 The Orb Experience is a band of evil alien space orbs that appeared in the Canadian/American animated television series Grojband. They are four space orbs that travel through space looking for band battles they can get into with other bands from other planets.
Members
Ad blocker interference detected!
Wikia is a free-to-use site that makes money from advertising. We have a modified experience for viewers using ad blockers

Wikia is not accessible if you've made further modifications. Remove the custom ad blocker rule(s) and the page will load as expected.