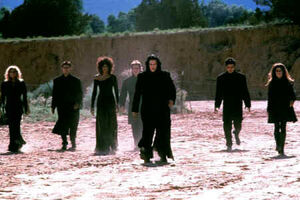 The Masters are powerful deadly Vampires that control the undead bloodsuckers and they are both minor villains in the novel Vampire$ and it's 1998 horror film adaptation John Carpenter's Vampires. Valek is the first and most powerful Master since the first of all vampires. While there are Masters that are male, other Masters that are female are called Mistresses.
History
Since after Valek's death and first rise from the grave as the world's first vampire in the early 14 century A.D., ??????.
Gallery
Ad blocker interference detected!
Wikia is a free-to-use site that makes money from advertising. We have a modified experience for viewers using ad blockers

Wikia is not accessible if you've made further modifications. Remove the custom ad blocker rule(s) and the page will load as expected.