| | | |
| --- | --- | --- |
| " | Children, the time of ascension has arrived. For the love of God! Haven't any of you ever been in a cult before? | " |
| | ~ The Man in White to his Heaven's Helpers Youth Cult. | |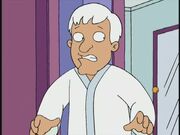 The Man in White was the sole villain in the Family Guy episode "Chitty Chitty Death Bang". He is the charismatic but twisted leader of a strange group of fanatics called Heaven's Helpers Youth Cult.
He was the one who conjured up the idea of mass suicide so he and his followers could all go up into Heaven.
Meg would've been killed by the poisoned punch had Peter Griffin not intervened. He then comes back down the stairs to find that everyone died and he noticed Meg leave and then tried to kill her. He is then disintegrated by Stewie Griffin who thought he was going to put him back in Lois' womb and dies.
Ad blocker interference detected!
Wikia is a free-to-use site that makes money from advertising. We have a modified experience for viewers using ad blockers

Wikia is not accessible if you've made further modifications. Remove the custom ad blocker rule(s) and the page will load as expected.