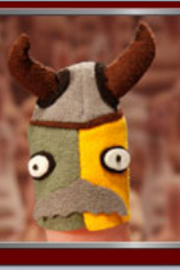 History
The Lost Viking was a viking from hundreds of years ago until he was frozen in ice. The evil Sinistras found him and made him one of their wrestlers. He is very powerful but is extremely oblivious of the current day and has to be controlled by Senator Skull who he is very loyal too. However in season 4 he becomes loyal to Bucks Gazillion. He even sided against Skull in his mutiny but he and the others are overthrown.
Special Attack
Although he has no signature move he is one of the strongest wrestlers and can do many attacks at once.
Ad blocker interference detected!
Wikia is a free-to-use site that makes money from advertising. We have a modified experience for viewers using ad blockers

Wikia is not accessible if you've made further modifications. Remove the custom ad blocker rule(s) and the page will load as expected.