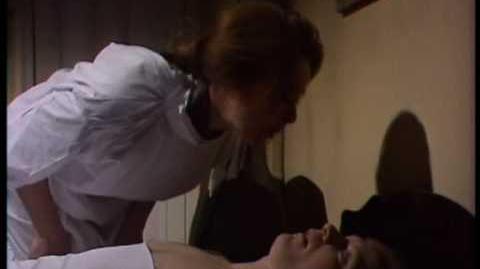 The Landlady is the main villain of the short story of the same name "The Landlady", a short story by Roald Dahl.
In the Tale
A seventeen-year-old businessman named Billy goes to the town of Bath. He was on a business trip where he was originally going to "The Bell and Dragon," but then notices a sign in a window saying "Bed and Breakfast." He is then welcomed in by the Landlady. She then gets him to sign a registration book where there were two other entries. However, one took place two years ago and another was approximately three-years-old. She also had a pet daschund and a parrot in the boardinghouse. She then offered him tea that tasted of bitter almonds. She inexplicably interrupts Billy's questions about the disappearances of the two men and revealed that the daschund and parrot were stuffed, and claimed that she stuffed all her dead "pets." Billy then asks if there was any people who visited the boardinghouse and she replied "Only you." It is ambiguous if she poisoned Billy and the other men, and later stuffed them like her daschund and parrot. However, in the movie version, it's shown that she did stuff the other missing men, and was planning on doing the same to Billy.
Gallery
Ad blocker interference detected!
Wikia is a free-to-use site that makes money from advertising. We have a modified experience for viewers using ad blockers

Wikia is not accessible if you've made further modifications. Remove the custom ad blocker rule(s) and the page will load as expected.