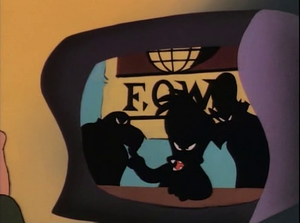 The High Command is a trio of mysterious figures who run over the Fiendish Organization of World Larceny.
No one knows who or where they are, as they only appear as black silhouettes on a TV monitor, which they use to send orders to their underlings.
The talking is done mostly by the one resembling a duck with fangs and a hairdo, as the two large avians mostly remain silent.
Ad blocker interference detected!
Wikia is a free-to-use site that makes money from advertising. We have a modified experience for viewers using ad blockers

Wikia is not accessible if you've made further modifications. Remove the custom ad blocker rule(s) and the page will load as expected.