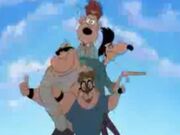 The Gammas are the minions of Bradley Uppercrust III and they are supporting antagonists in the 2000 animated Disney film, An Extremely Goofy Movie.
History
??????
Trivia
One of the few named Gammas besides Bradley and Tank was Slouch (the one with the hat) because, despite not being more important than the other Gammas, had to be mentioned as part of their sports' team. Slouch also got a figure in the McDonald's collection based on the film.
A tall and skinny member of the Gammas looks like a shaved version of Bigfoot from the previous film, due to having the same snout.