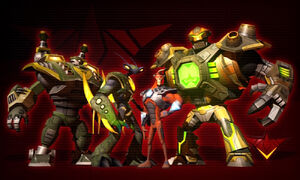 The Exterminators are a group of four elite DreadZone fighters in Ratchet: Deadlocked.
History
The Exterminators have been slaying many famous heroes such as Plutonium Jones, The Omega Twins and Captain Starshield. They are the most popular contestants of DreadZone. They (especially Ace Hardlight), were loved by Gleeman Vox.
Members
Trivia
All the robotic members were killed by Ratchet.
Ad blocker interference detected!
Wikia is a free-to-use site that makes money from advertising. We have a modified experience for viewers using ad blockers

Wikia is not accessible if you've made further modifications. Remove the custom ad blocker rule(s) and the page will load as expected.