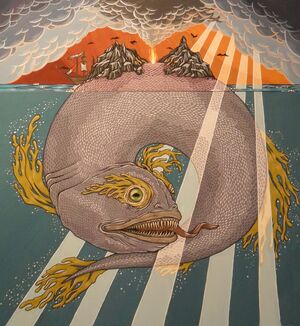 The Devil Whale is a huge demonic whale, (or a sea turtle in some legends), that resembles as an island when it's sleeping, tricking sailors into putting ashore on it's back.
When the sailors start a fire, The Devil Whale awakes and attacks the ship, dragging it under the water and to the bottom of the sea. Early explorer Saint Brendan the Navigator, in his travels, reportedly landed on the back of The Devil Whale on Easter Sunday. Soon as his monks started a fire to cook their meal, the "island" began to swim away and the sailors quickly scrambled back to their boats.
Ad blocker interference detected!
Wikia is a free-to-use site that makes money from advertising. We have a modified experience for viewers using ad blockers

Wikia is not accessible if you've made further modifications. Remove the custom ad blocker rule(s) and the page will load as expected.