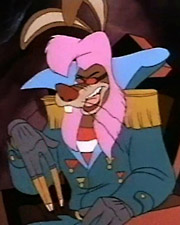 The Collector (voiced by Michael Bell) - the villain from the pilot episode ("Going Bonkers"), and therefore, the first criminal Bonkers encounters. He is a toon that collects other toons in suspended animation. At the end of the episode, he is revealed to simply be a deranged, cartoon obsessed human nerd in disguise. Sort of the opposite of the villain Judge Doom in "Who Framed Roger Rabbit", a villainous toon disguised as a human.
The Collector was only in the first two episodes of Bonkers. He lives in the sewer collecting a lot of things in the Bonkers series.
His henchman Mr. Doodles would go to the real world to collect the things in Bonkers like a sale stand from Trailmix Bonkers and a UFO from Bonkers in Space. He created it a machine called the valinator that turns toons to stone and still be alive. He's got a box with toon stuff like cowboy shoes, Mr. Custard and an anvil. In the end he wasn't a toon, because he didn't go for the banana peel slip. He has 5 fingers and he was really wearing a mask and he ended up falling in his own box.
Gallery
Trivia
It is possible that his right hand was inspired of Freddy Krueger's claws, and he was somewhat like Judge Doom from Who Framed Roger Rabbit.