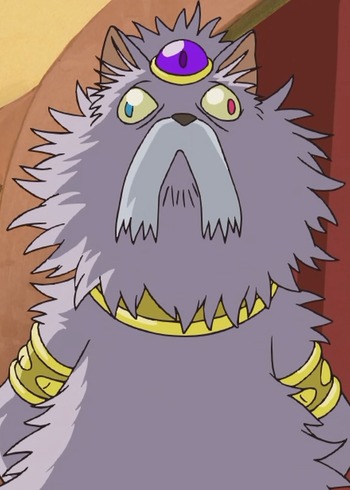 The Cat King is the main antagonist of the Studio Ghibli film The Cat Returns (one of the fewer Ghibli movies Hayao Miyazaki didn't direct; instead it was directed by Hiroyuki Morita). He is the king of the Cat Kingdom. In the English version, Tim Curry did his voice.
The Cat King and his men are first seen arriving at the house of Haru (the actual protagonist), congratulating her for saving a cat (who absolutely was nobody but the King's only son, Prince Lune). He and the men keep trying to repay him by having her marry Lune, much to Haru's dismay. He even calls her babe.
As Haru (who has gotten smaller due to her forced arrival at the Cat Kingdom) is being prepared, the King makes her part-cat in order to have her and his son married, but she is still unwilling. He has any entertainers who don't manage to stop her crying thrown out the window. Baron Humphert von Gikkengin (in disguise) takes the case. He discovers that Baron has come for Haru, and he, Haru and Muta escape after a fight.
Later, as Baron, Haru and Muta have just arrived to the top of a tower, the Cat King destroys it in order for the top to turn into a bottom. After finding out that Prince Lune has decided to marry Yuki (a white cat whom Haru used to feed a whole box of fish crackers when the former was a kitten and the latter was a little girl), the Cat King reveals his actual goal: to marry Haru himself, but she refuses. As Haru is climbing up the stairs inside the dome, he fights with Baron until his glass eye shatters and he loses most of his fur. He declares that the tower is hundreds of feet shorter now.
When Haru is finally returned to her world, the King (along with Natori) plans to retire.