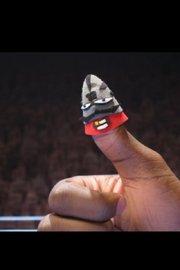 The Big Time
is one of the strongest members of Thumb Wrestling Federation, a recurring antagonist, and the second in command of the evil Sinistras.
History
As a kid Big Time was the toughest and most poular kid in school. He later made his way to the TWF. In season one he domninated all his opponents and even got Senator Skull disqualified so he could get into the championship. During the champioship he and Hometown Huck were evenly matched. With both of them down Huck was pushed on top of him so he lost. In season two Skull got revenge by disqualifying Big Time. In season four he quite after Bucks Gazillion interfeared with his match. He later helped Senator Skull overthrow Bucks. In season 5 he once again plowed through all his opponents and made it to the championship where he fount Cleat Cunningham.
Special Attack
His special attack is called the time bomb. When he unleashes it, it causes a giant explosion of power onto his opponent. Few have walked away from the time bomb.