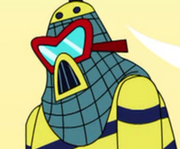 The Beekeeper
is a bee-themed supervillain and an antagonist in
Johnny Test
. Out of costume, he is
Doc Beebles
, the maker of Doc Beebles' All-Natural Piles 'O Honey Bars. His debut plot was to use his bees to eat all other candy in the world so his Piles 'O Honey Bars would finally sell; nobody was buying them due to the fact that they were organic (and thus people assumed they were horrible). The Beekeeper did indeed want the kids to be healthier, and his honey bars were in fact decent, as the kids found out at the end of the episode.
His next notable appearance as a solo villain was in "Johnny Holiday". There, the Beekeeper tries to attack the Test siblings and Dukey many times when they try to make a holiday in the middle of the year where kids receive free candy. Each of his attempts fail, due to the fact that the Test siblings are by this time well prepared for attacks. At the end of the episode, though, he does help them out by allowing them to use his honey bars and having his bees drop them off around the world on "Bee Happy" Day.
The Beekeeper used to be a member of the Johnny Stopping Evil Force 5. However, as he has not been seen since and has dropped out of the Johnny Stopping Evil Force 5, he is assumed to be reformed and like the Tests. He has been replaced in the force by Zizrar.
Trivia
He was voiced by James Arnold Taylor.
Ad blocker interference detected!
Wikia is a free-to-use site that makes money from advertising. We have a modified experience for viewers using ad blockers

Wikia is not accessible if you've made further modifications. Remove the custom ad blocker rule(s) and the page will load as expected.