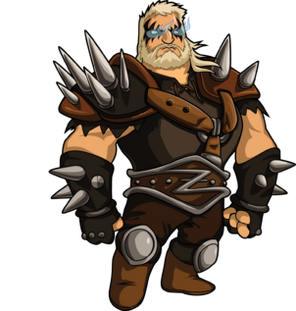 Baz is one of the travelling adventurers in the world of Shovel Knight.
History
Shovel Knight confronts Baz who is angry that he wasn't included in the Order of No Quarter. He sees Shovel Knight and realizes that if he could beat him, he could become a knight which leads to a boss battle with him. After you beat him, he cries his loss and Shovel Knight leaves. He's later seen with the other wandering knights (excluding Black Knight) at the end.

Ad blocker interference detected!
Wikia is a free-to-use site that makes money from advertising. We have a modified experience for viewers using ad blockers

Wikia is not accessible if you've made further modifications. Remove the custom ad blocker rule(s) and the page will load as expected.