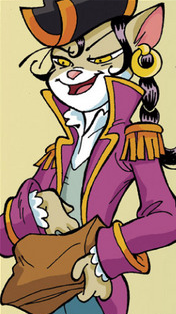 | | | |
| --- | --- | --- |
| " | You may have won this time, Stilton, but you'll see us again soon! | " |
| | ~ Tersilla to Geronimo Stilton. | |
Tersilla is a leading antagonist from the Geronimo Stilton comic book series. She is the daughter of Catardone III, leader of the Pirate Cats, and is aided by their henchman, Bonzo. Although Catardone leads the gang, Tersilla is the real brains behind the operation. 
Spoiled, selfish, conniving, sly, and sadistic, Tersilla plots with her father and sidekick to change the course of time in history to get rich. Her schemes involve kidnapping important figures, stealing treasure, and especially, taking out Geronimo Stilton.
But at the end of every book, she is outwitted and vows to Geronimo that they will meet again.
Tersilla makes an appearance in The Golden Statue Plot as one of the main antagonists. When Cat Island falls under a blackout, Tersilla has a fur crisis and is very upset. Her father is worried that there may be pollution occuring if the electricity is not set right, and the cats have a meeting about what to do. Tersilla complains about her fur being messed up. When her father plans to steal the Mouse Island Statue of Liberty, believing it is made of gold, Tersilla has her own plans. She hires two of the wicked Pirate Cats, Thugsy and Killer, to help her steal the statue for herself so she can get even richer than her father. They sneak off in a boat and are on the brink of capturing the statue when Geronimo Stilton, aided by his nephew, Benjamin, and the other mice, spray fleas at the Pirate Cats, scaring them off. Tersilla finally receives her comeuppance when her two younger siblings explain to Catardone what had happened. Catardone catches Tersilla, demanding to know what she had done. Tersilla tries to make an excuse that she was trying to help. Catardone doesn't believe her and punishes his daughter by putting her in charge of cleaning up after the carrier pigeons.