Tereus
was a monarch from Greek mythology who had a deep lust for his wife's sister and then cut her tongue out and held her captive so she could never tell anyone. He told his wife that her sister had died. Philomela wove letters in a tapestry depicting Tereus's crime and sent it secretly to Procne. In revenge, Procne killed her and Tereus' son Itys and served his flesh in a meal to his father Tereus. When Tereus learned what she had done, he tried to kill the sisters but all three were changed by the Olympian Gods into birds: Tereus became a hoopoe; Procne became the nightingale whose song is a song of mourning for the loss of her son; Philomela became the swallow. Because she has no tongue she can only twitter instead of singing.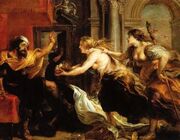 Ad blocker interference detected!
Wikia is a free-to-use site that makes money from advertising. We have a modified experience for viewers using ad blockers

Wikia is not accessible if you've made further modifications. Remove the custom ad blocker rule(s) and the page will load as expected.