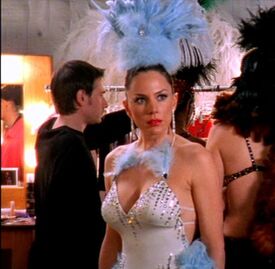 Teresa Telenko
is the minor villainess from "Mr. Monk Goes to Vegas," a third season episode of
Monk.
She was played by Krista Allen, who also played Desiree Atkins in "Heat," an episode of Smallville.
Teresa was one of the Vegas showgirls at a casino owned by Daniel Thorn, who she was having an affair with. It was later revealed that Daniel killed his wife, Sheryl, and Teresa played a role in making the murder look like an accident. She appeared from an elevator shaft wearing the same dress as Sheryl and came out with Daniel; passing herself off as his wife. Teresa went back in the elevator and placed Sheryl's body back down, with her scarf caught in the door; appearing as if she was accidentally strangled to death.
Gallery
Ad blocker interference detected!
Wikia is a free-to-use site that makes money from advertising. We have a modified experience for viewers using ad blockers

Wikia is not accessible if you've made further modifications. Remove the custom ad blocker rule(s) and the page will load as expected.