"
You will confronted The Undertaker in his cell of hell.

~Teddy talking to CM Punk

"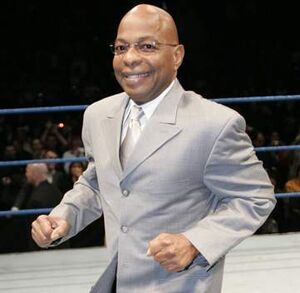 Debut
Theodore Long also called "Teddy" begin his career as a referee, in this role he was a fair official, his villainous behavior would not appear until he became a manager.
Following Teddy's hell turn, he began managing the tag team of Rodney Mack and Christopher Newinsky during their feud with the Dudley Boyz. During the feud (which was centered on Teddy managing tag teams seemingly held down by "the man", "white people") he tried to turn Devon against his brother Bubba Ray but failed to do so.
Soon after he would manage the returning Mark Henry, this role didn't last long however as soon Teddy Long was made the Smackdown General Manager and as such, became a Face.
Villainous acts
Teddy Long fired from the Smackdown brand Melina Perez and Johnny Nitro after they lost the Tag Team Titles and complained to him about it. He also cost the Undertaker the world Heavyweight title against CM Punk and only agreed to give Undertaker a rematch inside a Hell in a Cell match following the Undertaker kidnapping him and placing him in a casket.