A member of the Morlocks, he once tried to help Annalee capture Power Pack and force them to become her children. He helped another group of Morlocks in a second attempt, which was thwarted by the X-Men.
Tar Baby was one of those who survived the "Mutant Massacre", where the Marauders hunted down and killed many Morlocks.
Tar Baby was later captured by the Weapon X program, which was led by Malcolm Colcord, and put to death in "Neverland", Weapon X's concentration camp.
Television History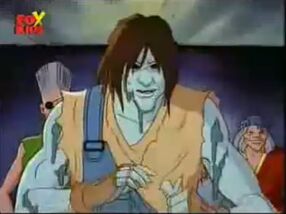 Tar Baby is a member of the Morlocks. Callisto, looking for an appropriate companion to give her an heir, orders Leech to go into the city above and draw attention to himself so that Cyclops will follow him. When Leech, being followed by a group of rioting humans heads into the subway, Tar Baby and several other Morlocks block their path, drawing the nearby X-Men, Cyclops and Jean Grey into a battle with them.