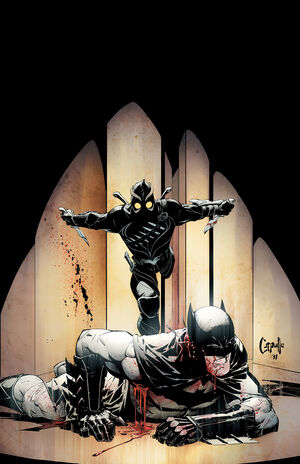 The Talon is a villain in the Batman franchise. As detailed in Nightwing #8, Cobb was born into a middle-class family, but his father tragically died while building a bridge for Cameron Kane. 
In other media
Batman vs. Robin
The Talon appeared as the main antagonist in the 2015 DC Animated film Batman vs. Robin.
Gotham
See Talon (Gotham)
The Talon makes his first live-action appearance in the television series Gotham, debuting in the third season premiere episode "Mad City: Better to Reign in Hell…" and portrayed by Brandon Alan Smith. The Talon is sent by the Court of Owls to kidnap a young Bruce Wayne who threatened the board of directors at Wayne Enterprises (which the Court secret run) to expose their corruption unless contacted by the Court within 24 hours.