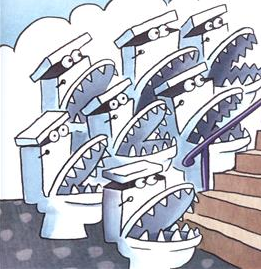 "Yum yum eat 'em up!" - The Talking Toilets' catchphrase
The Talking Toilets are the main antagonists of Captain Underpants and the Attack of the Talking Toilets. They were accidentally unleashed from an invention, the PATSY 2000 at a science fair by George and Harold. The Talking Toilets succeed in devouring all the teachers except Mr. Krupp, who becomes Captain Underpants. Our hero defends the boys against the Talking Toilets. They are outnumbered until Captain Underpants, George, and Harold discover a pot of creamed chipped beef in the school cafeteria. They fire the beef into the Talking Toilets' hungry mouths, causing them to get sick and throw up all the teachers.
Ad blocker interference detected!
Wikia is a free-to-use site that makes money from advertising. We have a modified experience for viewers using ad blockers

Wikia is not accessible if you've made further modifications. Remove the custom ad blocker rule(s) and the page will load as expected.