Ad blocker interference detected!
Wikia is a free-to-use site that makes money from advertising. We have a modified experience for viewers using ad blockers

Wikia is not accessible if you've made further modifications. Remove the custom ad blocker rule(s) and the page will load as expected.
Takeshi
is one of villains in 2009 film
Ninja Assassin
is rival of Raizo who killed his sweetheart before he was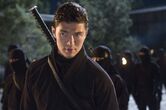 killed by him
He was portrayed by Rick Yune who played Kang Yeonsak
Takashi had grudge against Raizo for cutting his right eye during childhood training and kills Raizo's love interest Kiriko in front of Raizo which caused to revenge.
Gallery