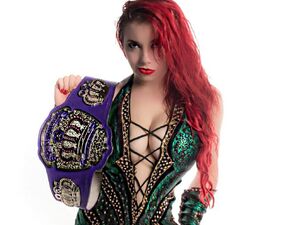 Taeler Hendrix
is a professional wrestler best known for being the first female winner of TNA's Gut Check. Other than TNA, Taeler has competed for OVW and several independent promotions, mainly Queens of Combat.
After competing in OVW, Taeler debuted for TNA as a Gut Check contestant in the summer of 2012. After her match against Tara, Taeler won via a 2-1 vote and became part of the Knockouts roster. Taeler's stint in TNA was brief and she mostly competed as a babyface, but at the first Knockouts Knockdown PPV on September 6, 2013, Taeler competed as a heel (villainess) in the event's only three-way match. At the event, Taeler was defeated by Hannah Blossom in the match, which also included Sojo Bolt. As a member of the OVW roster, Taeler mostly portrayed a villainess and held the OVW Women's Championship on three different occasions. 
After her stint in TNA ended in 2013, Taeler returned to the independent circuit; making a few appearances at Shine Wrestling. This included an appearance at SHINE 19 on May 23, 2014, where she was defeated by Leah Von Dutch in a match where both women portrayed heels. Taeler joined the Queens of Combat promotion two months prior as a babyface and defeated Serena Deeb in the main event. It was during the Queens of Combat Title Tournament on June 13, 2015 that Taeler became a villainess en route to defeating Amy Love in the first round. She would cement herself as a villainess on the next day during her second round match against Amanda Rodriguez, when she openly flirted with Amanda's boyfriend, Caleb Konley, who was in attendance. Taeler went on to defeat Amanda to advance to the semifinals.
Taeler is portrayed as an arrogant villainess who taunts her opponents both inside and outside the ring. In recent matches, Taeler's villainous persona includes donning gear that has her resembling Batman villainess Poison Ivy.
Gallery