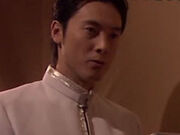 Tabata
is a member of
Foundation X
, who was given the briefcase of the T2 Gaia Memories by fellow member
Jun Kazu
.
Overview
Tabata picks up the T2 Gaia Memories from Kazu to take to the Foundation's headquarters. However, as revealed in the opening of Kamen Rider Double Forever: A to Z/The Gaia Memories of Fate, he is attacked enroute in a helicopter to Foundation X's headquarters by Katsumi Daido who takes the T2 Eternal Memory as he escapes death when Tabata activated the suitcase's self destruct, killing himself as helicopter explodes and the other T2 Gaia Memories spread throughout Futo.
Ad blocker interference detected!
Wikia is a free-to-use site that makes money from advertising. We have a modified experience for viewers using ad blockers

Wikia is not accessible if you've made further modifications. Remove the custom ad blocker rule(s) and the page will load as expected.