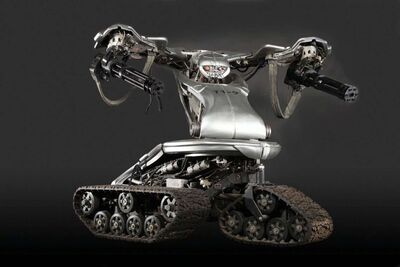 T1
is the secondary antagonist in
Terminator 3: Rise of the Machines
and returns in
Terminator Salvation
as a minor antagonist.
Creation and Operational History
T1 is the first Terminator class robot to be produced by Cyber Research Systems. Designed for extreme combat, the Series 1 was built to clear battlefields of enemy troops with its powerful weaponry. The T-1 was originally built in limited numbers, each individually numbered and stored under individual anti-static dust coverings. Cyberdyne created this first-generation fully autonomous ground offensive system in 2003 as part of their program to re-create the work of the late Dr. Miles Bennett Dyson.
The design of the HK-Tank was an evolution of the T-1, while the concept of T-835 may originate from the T-1.
Ad blocker interference detected!
Wikia is a free-to-use site that makes money from advertising. We have a modified experience for viewers using ad blockers

Wikia is not accessible if you've made further modifications. Remove the custom ad blocker rule(s) and the page will load as expected.