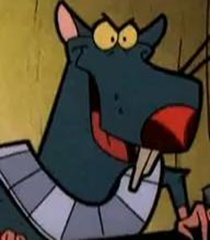 Swamp Rat is a villain in 101 Dalmatians: The Series. He is (of course) a rat who lives in the swamp. He is knavish and dishonest, as shown when (for example) he and his own gang take over the Dearly home while Roger, Anita, Pongo, and Perdita are on a romantic weekend getaway, and Nanny is away for some reason, while Rolly, Cadpig, Lucky, and Spot are trusted to watch the house, and he demands they, as party-crashers, leave the house, and he has Persian Pete as backup in case Lt. Pug shows up.
He is voiced by Jeff Bennett.
Ad blocker interference detected!
Wikia is a free-to-use site that makes money from advertising. We have a modified experience for viewers using ad blockers

Wikia is not accessible if you've made further modifications. Remove the custom ad blocker rule(s) and the page will load as expected.