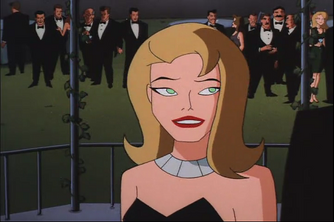 Susan Maguire is the plant creation of Poison Ivy and a villain in The New Batman Adventures. She was created by Ivy to seduce Bruce Wayne.
Bruce met Susan at Veronica's wedding with Michael. After some time, Bruce proposed to Susan and they eventually got married. Nightwing was suspicious of Susan which proved to be true when Bruce discovered her true nature on their honeymoon. As she tries to attack him, Bruce locks Susan in their room and was looking through the porthole. She was destroyed in the shipwreck and Bruce called off the marriage.
Ad blocker interference detected!
Wikia is a free-to-use site that makes money from advertising. We have a modified experience for viewers using ad blockers

Wikia is not accessible if you've made further modifications. Remove the custom ad blocker rule(s) and the page will load as expected.