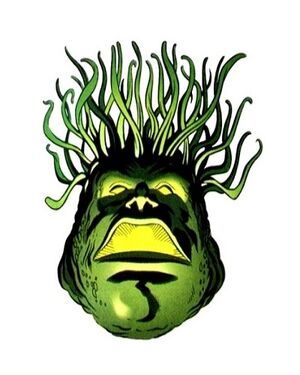 The Supreme Intelligence is an organic, computer construct, created by the Kree to act as their supreme leader. It is made up of the combined, preserved minds of the Kree's greatest intellects, giving it all the knowledge and mental ability that the Kree has access to.
When the Fantastic Four of Earth destroyed the Kree's Sentry 459, which guarded the Kree's, forgotten Earth outpost, the Supreme Intelligence was alerted via the Kree's scanners. It used its powers to read the past and contact the Fantastic Four telepathically, mining their very thoughts and memories to establish their guilt. Satisfied, it pronounced the four guilty, delivering the verdict via a shared dream that they initially confused for a nightmare. It appeared to them as a giant, green-skinned alien, whose hair was a mass of tentacles. As per the Kree's laws, the Supreme Intelligence sent Ronan the Accuser to pass sentence on the four.
Appearances in other media
X-Men: TAS
Empress Leelandra discussed with Supreme Intelligence and Skrull Queen about X-men fighting for Jean Gray aka Pheonix with Shiar imperial guardians, both officials agreed on term that X-men won't win.
Silver Surfer
???
Fantastic Four: World's Greatest Heroes
After Ronan the Accuser sentenced Fantastic Four for execution and declared them as enemies of Kree Empire, Johnny saved a Kree child, what made Supreme Intelligence rethink the case and revoked Ronan's sentence.
Avengers: Earth's Mighest Heroes
?
Gallery
Ad blocker interference detected!
Wikia is a free-to-use site that makes money from advertising. We have a modified experience for viewers using ad blockers

Wikia is not accessible if you've made further modifications. Remove the custom ad blocker rule(s) and the page will load as expected.