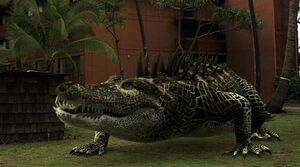 Supergator
is a Phobosuchus Riograndensis (Deinosuchus) prehistoric alligator recreated from fossilized DNA that escapes from a secret bio-engineering research center. Along the way, it eats many people, including 2 young lovers, 3 drunk teens, 3 models, 2 tourists, and a fisherman. It also eats Alexandra Steven, (Mary Stiefvater) and Ryan Houston (Josh Kelly). At the end The Supergator gets him and is blown up with gas, flames, and a shotgun.
Battling Dinocroc
In this film, Supergator serves as one of the two main antagonists of the film, the other being it's arch enemy, Dinocroc.
Gallery
Ad blocker interference detected!
Wikia is a free-to-use site that makes money from advertising. We have a modified experience for viewers using ad blockers

Wikia is not accessible if you've made further modifications. Remove the custom ad blocker rule(s) and the page will load as expected.