Ad blocker interference detected!
Wikia is a free-to-use site that makes money from advertising. We have a modified experience for viewers using ad blockers

Wikia is not accessible if you've made further modifications. Remove the custom ad blocker rule(s) and the page will load as expected.
The Super Battle Droid B2 were droids that appeared in episodes II and III of Star Wars. They were battle droids that served the Confederacy of Independent Systems on the Clone Wars.
They are simply enhanced battle droids, able to withstand twice the impact than the old laser models B1 Battle Droid. They had two guns built into the arms and a double protective armor, and were designed and mass produced by the company Baktoid Armor Workshop, which belonged to the Techno Union.
Were used for the first time on Geonosis where they were being designed and manufactured by the Geonosian and the Techno Union. Also fought in Muunilinst and Dantooine as well as in the rest of the Clone Wars.
The thick armor protected its shoulders receiving control signals, arms stronger than those of the current battle droids allowed slapping and beating of great consistency, acertrón shield protected the breast unit of food, the tip of its hand contained a transmitter of impulses that drive the annihilators perminita standard, as were monoagarre did not offer much skill but got much more resistance to damage, their legs were too thin to be not such an easy target to the enemy, however to soften the costs of the droid, many domestic agencies were obtained from B1 battle droids, but protected by a robust armor.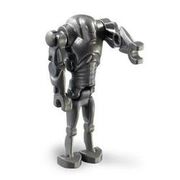 Finished the Clone Wars were the battle droids disabled in order of Palpatine.