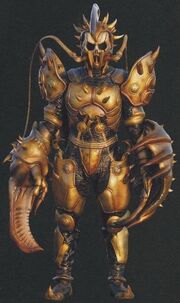 Subst Worm: A former servant of Uca Worm who turned on her mistress for "betraying herself and the Worms." Destroyed by Hyper Kabuto's Hyper Slash.
Kamen Rider G
To be added
Kamen Rider Decade
A crayfish-type Worm that posed as a young man and targeted Mayu, chasing her and Natsumi down until it is destroyed by a shockwave from Mayu's transformation into the Sisyra Worm.

Subst Worm revived and join Dai-Shocker army.
OOO, Den-O, All Riders: Let's Go Kamen Riders
To be added
Ad blocker interference detected!
Wikia is a free-to-use site that makes money from advertising. We have a modified experience for viewers using ad blockers

Wikia is not accessible if you've made further modifications. Remove the custom ad blocker rule(s) and the page will load as expected.