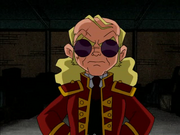 Sublimino is a short-tempered and midget-sized villain with hypnotic powers.
Original Series 
Sublimino makes his first appearance in Midnight Madness, as the mega-mall's show host. His first "trick" was hypnotizing Ben and two other people to do some tricks on the stage. During the act he almost causes Ben to display his alien forms to everyone in the shopping mall when he commands Ben to imitate an alien. Max and Gwen manage to take Ben off the stage before this happens. Interested, he hypnotizes Ben again in order to steal a large set of machinery, including some metallic parts and the mall's giant clock. Later, he tries to control every person in the mall with a giant clock, but fails in his scheme, due to Wildvine's intervention, revealing that Sublimino is nothing without his mind control. He is later arrested at the end of the episode.
Ad blocker interference detected!
Wikia is a free-to-use site that makes money from advertising. We have a modified experience for viewers using ad blockers

Wikia is not accessible if you've made further modifications. Remove the custom ad blocker rule(s) and the page will load as expected.